YouTube A Place, where you earn a lot of money through Monetization Youtube Video with google Adsense. Peoples wants to work on YouTube and they do not show their faces because of shyness. In this post, I will tell 11 Faceless YouTube channels Ideas without showing Face and make money on YouTube. Faceless YouTube Channels Ideas are best when you are shy and don't want to show your Face To Other People.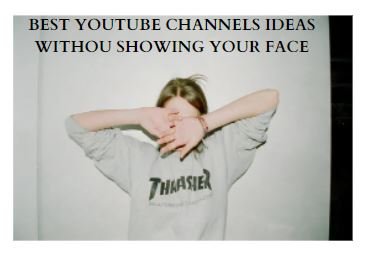 Read Also: RB Earning Method
11 Faceless Youtube channels ideas without Showing Face
Here is the list of Best YouTube Channels of Ideas without a face. you can choose one of them and start your career on YouTube.
1. Cooking Food Channel
This is a busy World, and no one has the time to learn to cook and eat delicious foods. So you can effortlessly search Youtube and watch videos about How to cook Best Foods with Taste. Yes, If you are an Experienced Person in cooking so you can start Food YouTube Channels and Uploading Videos about Best Food Recipies.
You can create and upload Videos related to Nashta Recipes like Paratha, Naan Channay, and Desi Nahari and can target simple juices recipes that most people use in Summer.
2. Faceless Tutorial Videos
YouTube Is a Place where we can find everything in the Shape of Video that we need. When we want to know how to do, how to know, how to create, you can Watch Millions of Videos about your Relevant searches.
If you are a Skilled Person in Any Field, you can start your own channel on Youtube and Start your YouTube Journey and teach others.
You can become a Teacher, Musician, Dancer, or Photographer on YouTube and start Earning.
Also, Suppose that If you are Programmer and an IT Software Specialist, you can teach your Customers without showing your Face.
3. Presentation Slides
This is one of the best and easiest methods for creating and Uploading Videos on YouTube. You can use Free Tools Like Microsoft Presentations, and Keynote to create presentations and save it As Videos for Uploading. Also, you Can use google Slides to create videos.
4. Animation Videos
This is another best idea to create Videos without showing your face is to Create Animation Videos. If you are good Skills to create Animation Videos then you can start or Hire someone through Freelancer Websites.
As A Success YouTuber Who is creating Animation Videos and Earning in Millions, you can watch Angry Prash YouTube Channel Videos. He started His Career with MS Paint Animation and Now he is Round About 6 Million YouTube Subscribers.
5. Time-lapse Videos
This is another great idea to Create Channel without your Face. A lot of people use different techniques and create Time-laps videos. A Time-lapse video can be for everything and everyone.
You can use your Own Camera and Drop Something Else and create videos with that moments. you can also use different Mobile apps for this purpose.